MOUNT ELBRUS - NORTH ROUTE
DATES AND ITINERARY

Dates: Aim to arrive in MineralnyeVody on the morning of Day 1 (the advertised date hence you will depart from home the day before the advertised date). Most flights go via Moscow, enabling you to catch an overnight flight to Moscow and then a morning flight from Moscow to MRV. For the return, book a flight from Min Vody around lunchtime or early afternoon in order to make the link with the international flight back home.

Trip Extension: Since most flights go via Moscow it is possible to spend some time in the city before or after the trip. Andrey Panin in Moscow can organise airport pick-ups, hotel bookings, local tours or bookings for any shows you may like to see. Have a look at Moscow Weekend for further details: www.moscowweekend.ru

Climbing Period: The itinerary below allows a five day climbing period on the mountain above base camp. If the weather is favourable, there may be two summit attempts but the decision will be made by the guides, depending on normal mountaineering decisions and the ability of the group.

DETAILED ITINERARY
Day 1 (320 m 2.5 hrs)
Arrive into MineralnyeVody, arriving in the morning or lunchtime. On arrival at MRV you will meet the Adventure Alternative team and transfer to a hotel in the local town of Pyatigorsk. We use the Intourist Hotel. Pick up any rented gear, and sightseeing in the city.

Day 2 (2250 m 6 hrs)
Early departure for a four hour drive to base camp at the foot of Elbrus. The first part is by asphalt road then the second by dirt track in all-terrain vehicles. Camping. In afternoon possibility of acclimatisation walk to Mushroom Rocks (3500m).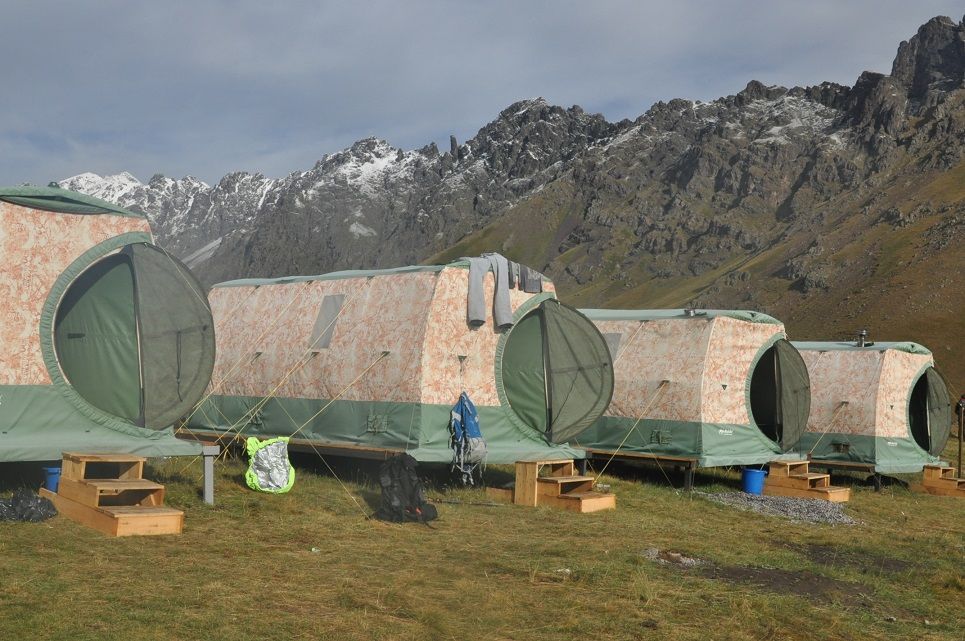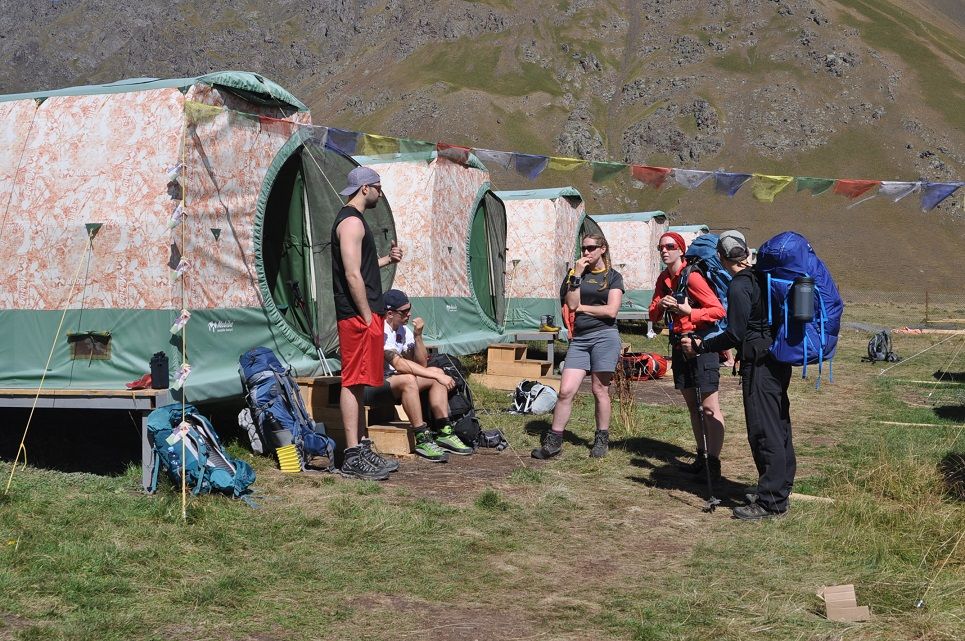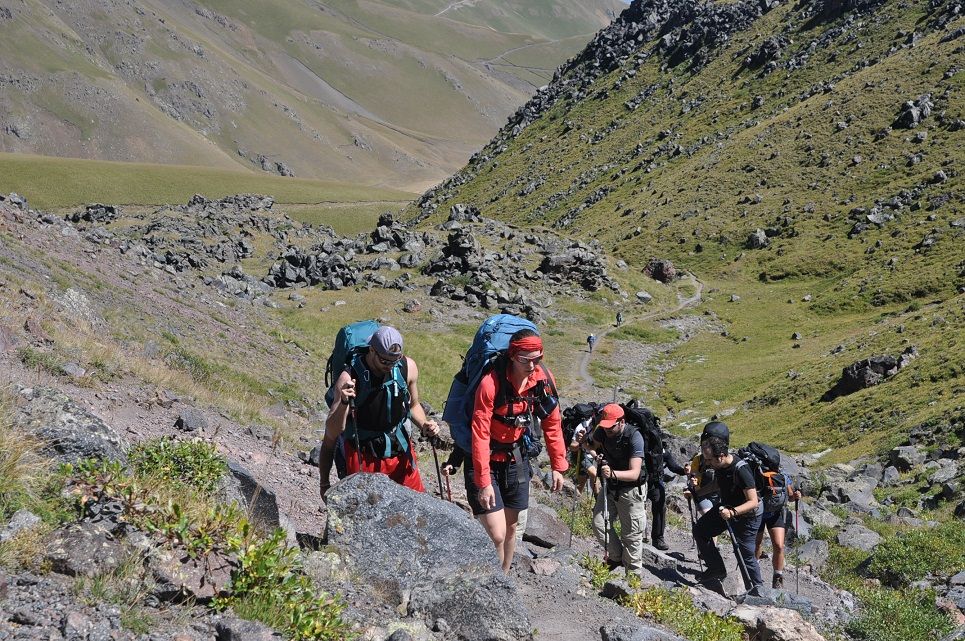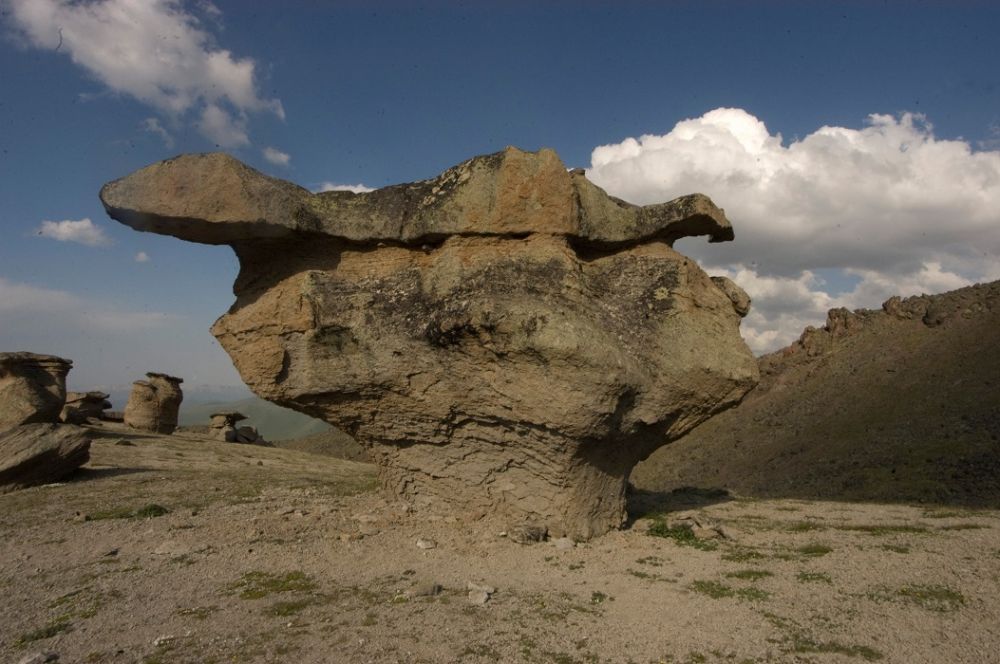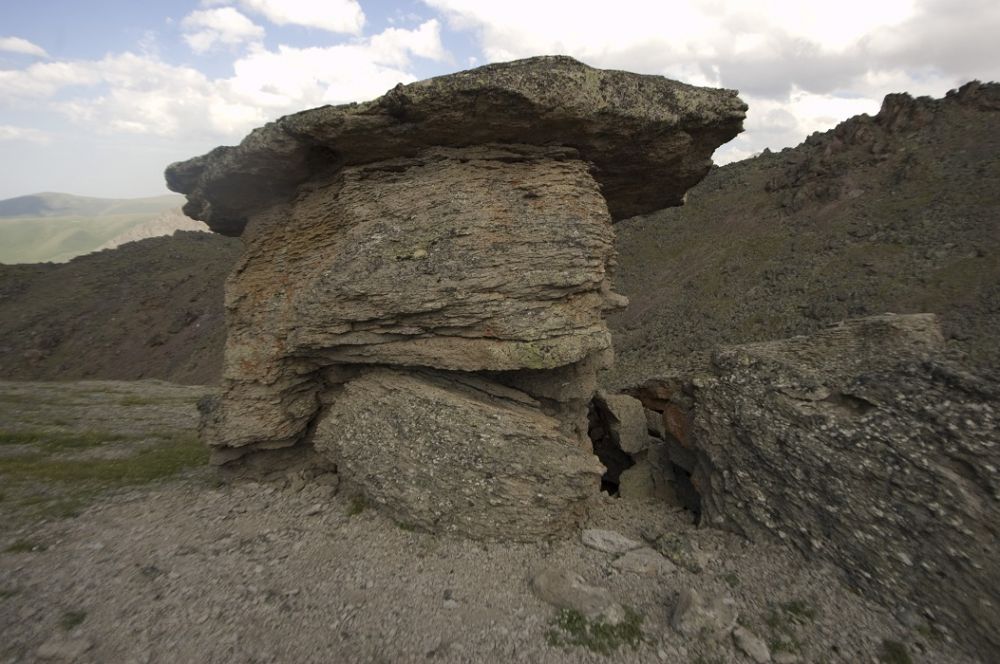 Days 3 - 5 (2500 m - 3800 m 4 hrs)
Acclimatisation walks in the area of basecamp exploring the volcanic landscape of lava sculptures, and making carries up to the high camp (hut) at 3800 metres. There should be time here for a rest day to visit the energising springs which are famous in this area and see some amazing waterfalls. Every night camping at base camp, where there is a mess tent for eating.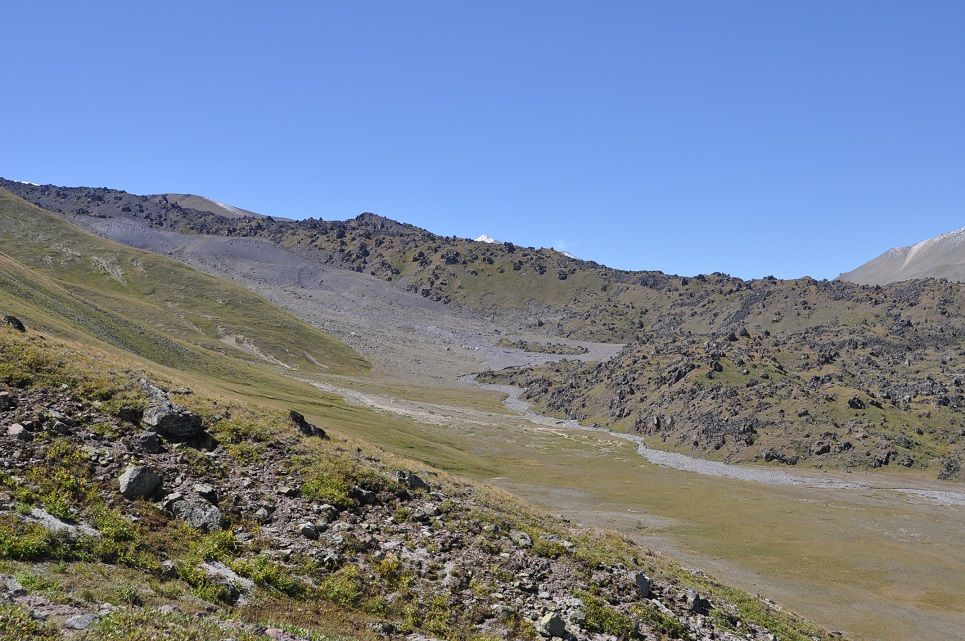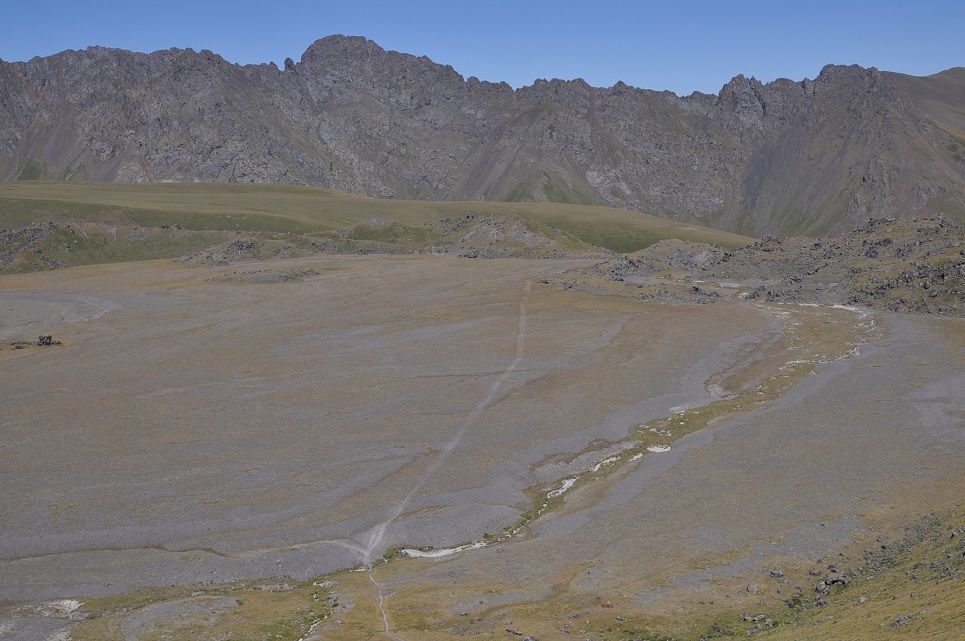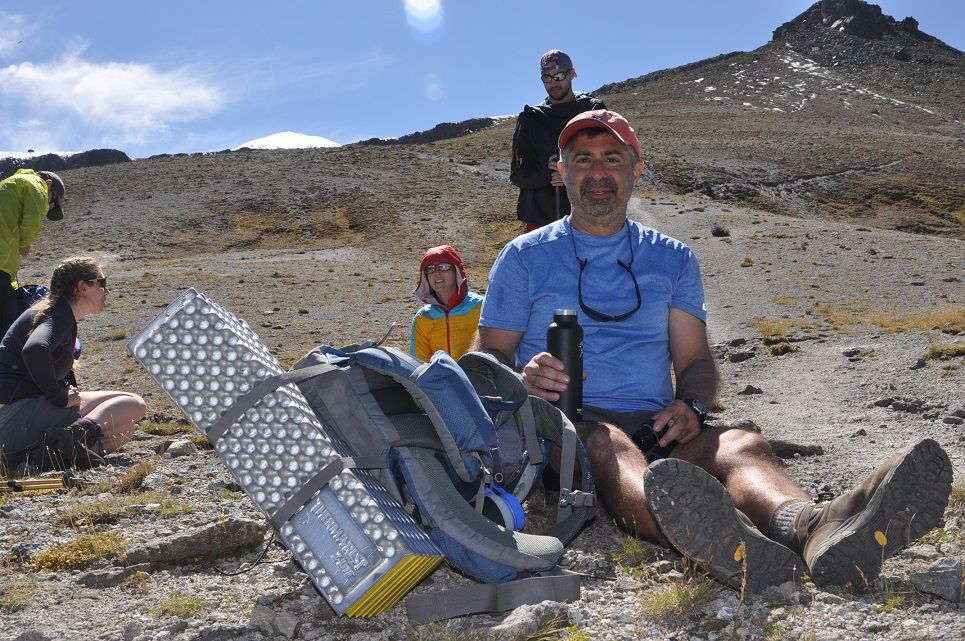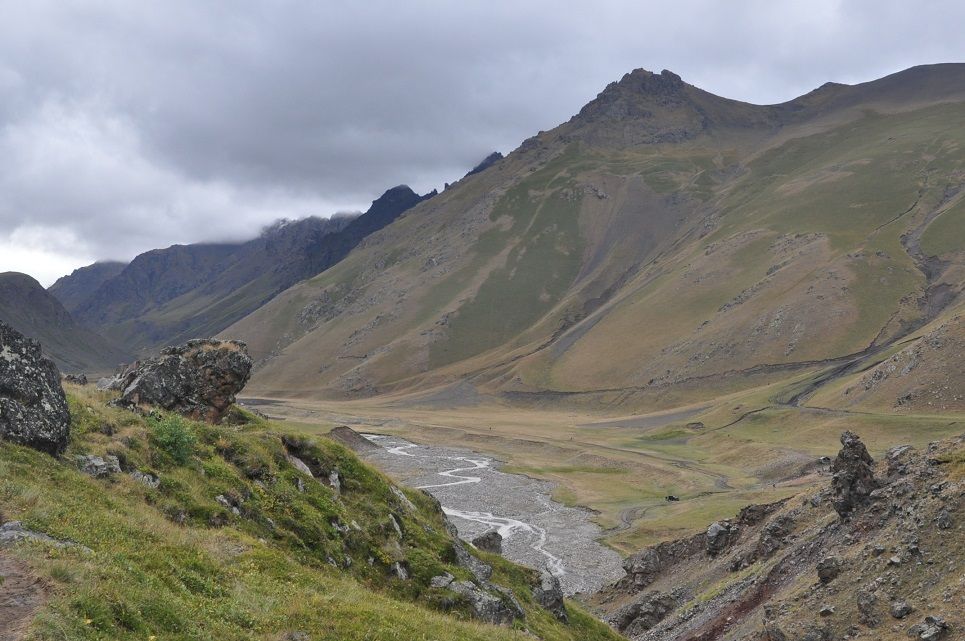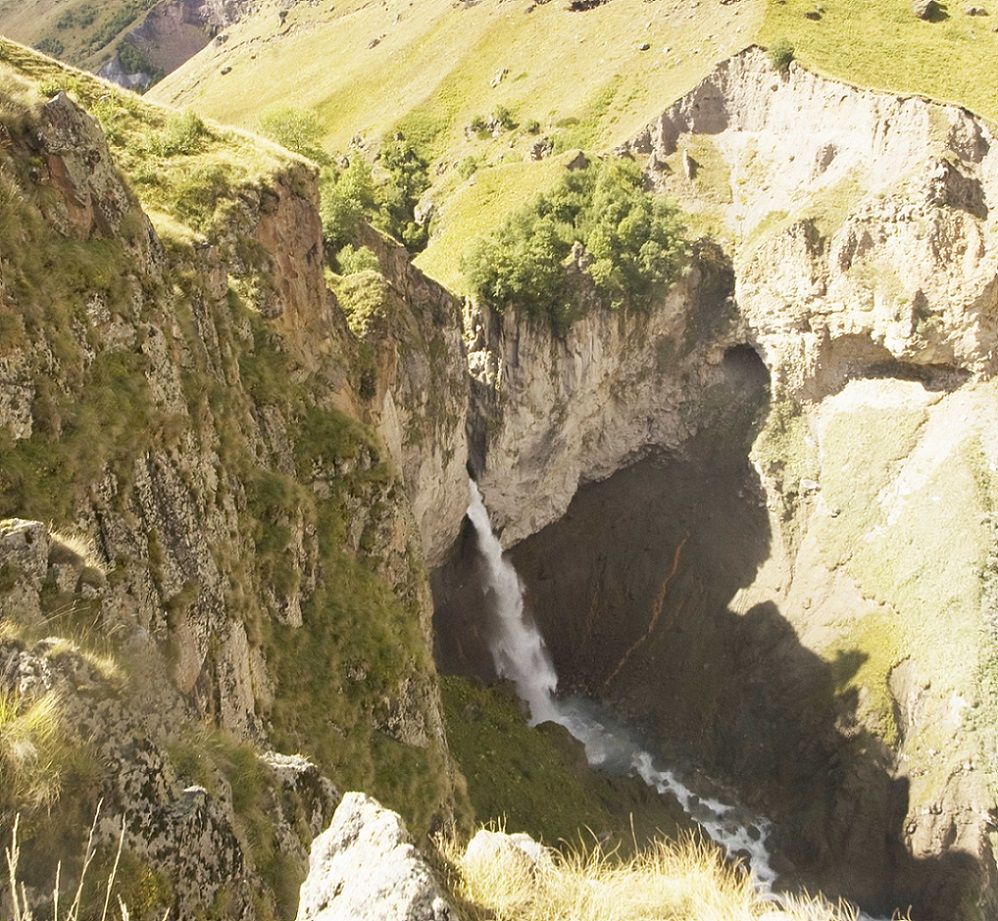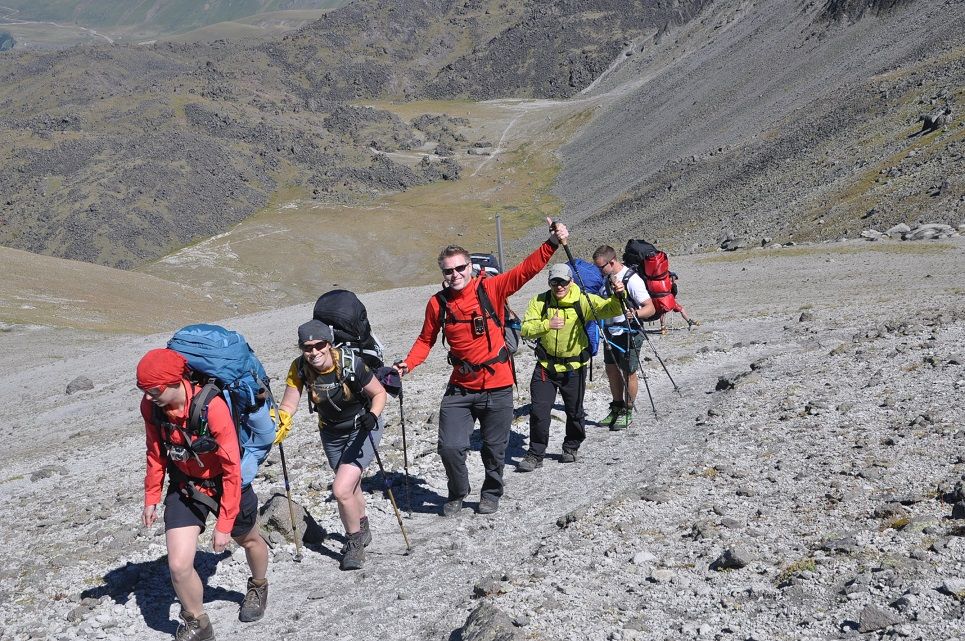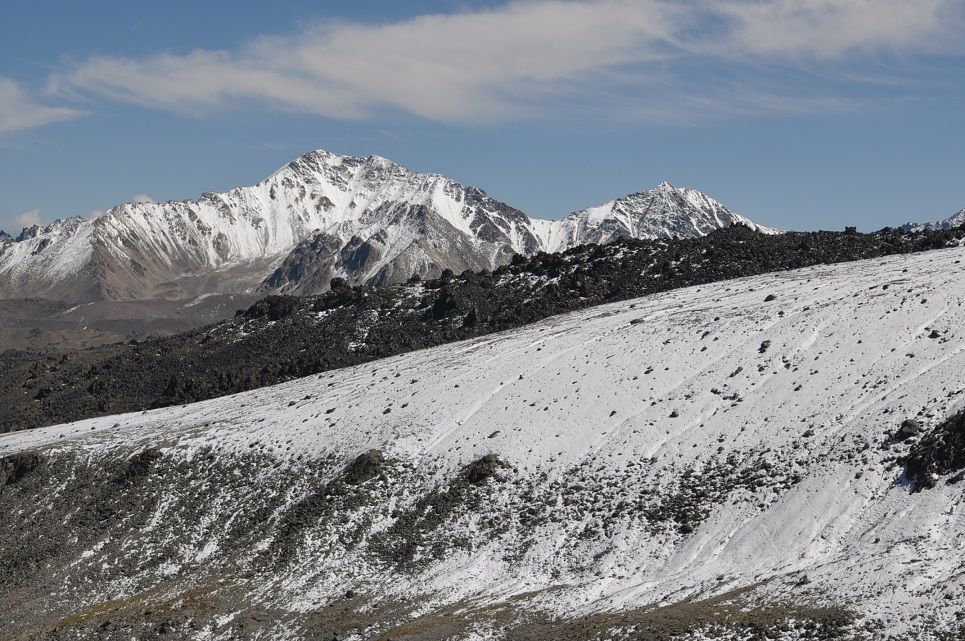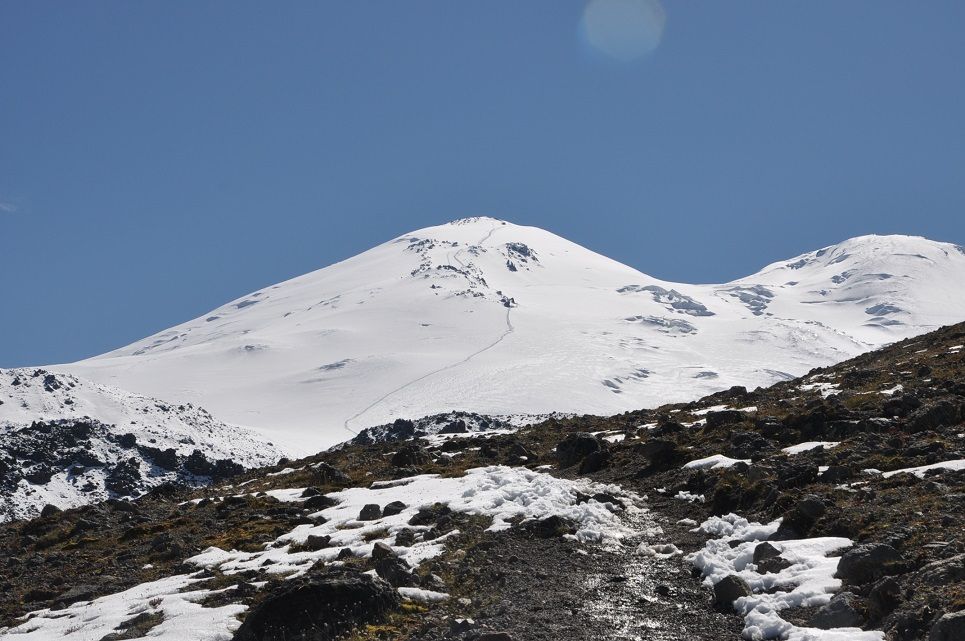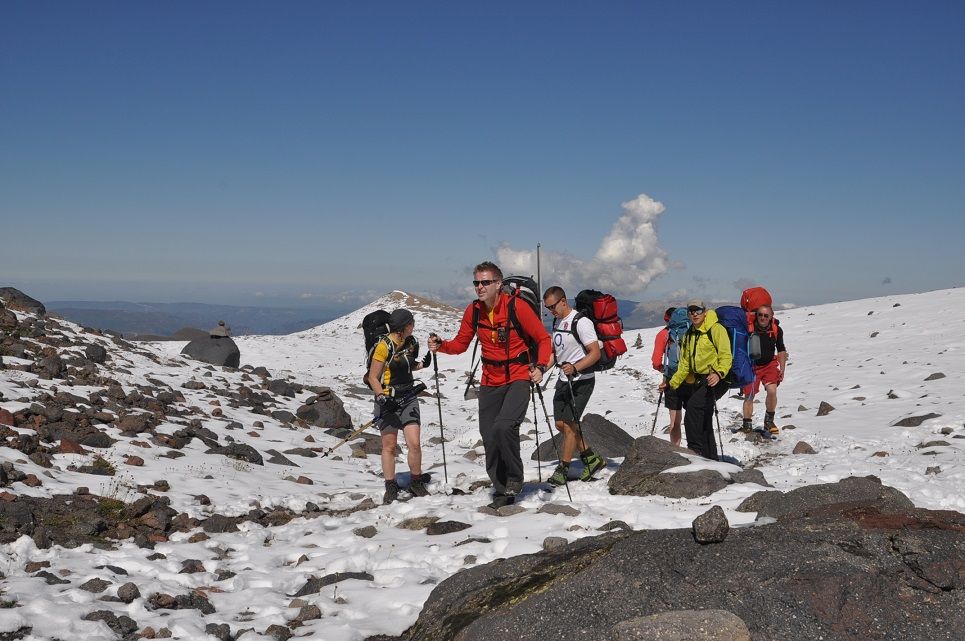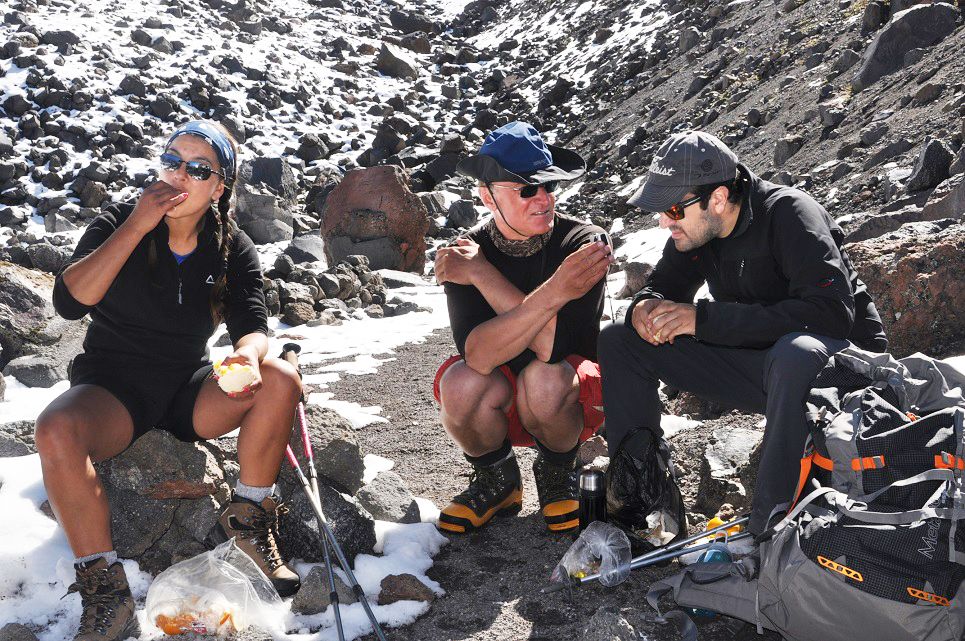 Days 6, 7 (3800 m - 4600 m 5 hrs)
Move to the high camp (hut) and make an acclimatisation hike up to Lenz Rocks (4600 m) and deposit gear (tents, food, gas, stoves and pots). Sleep at the hut.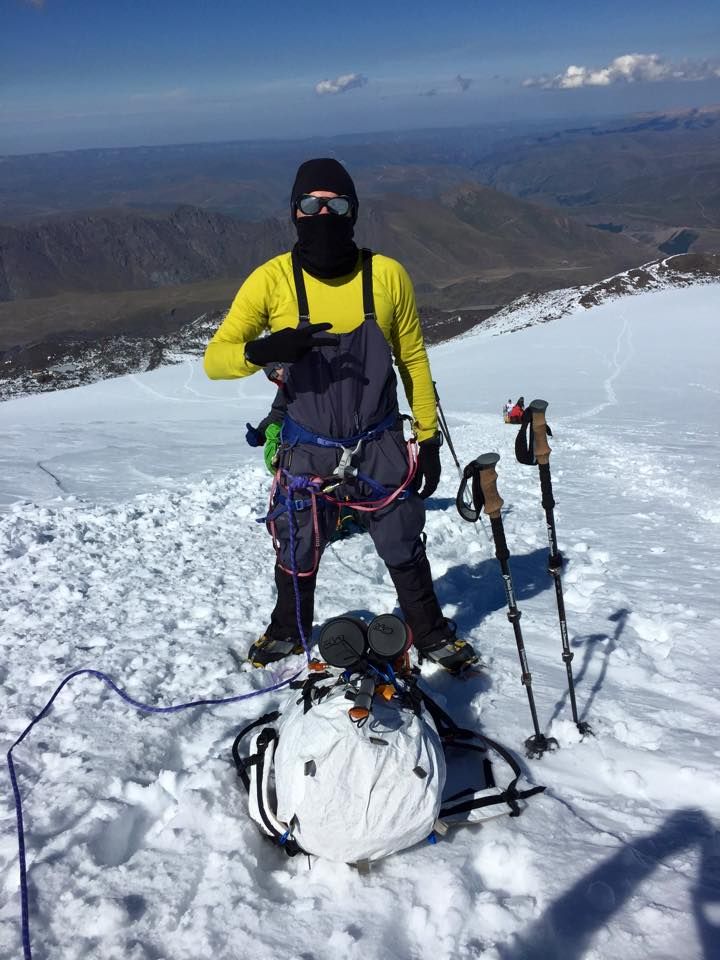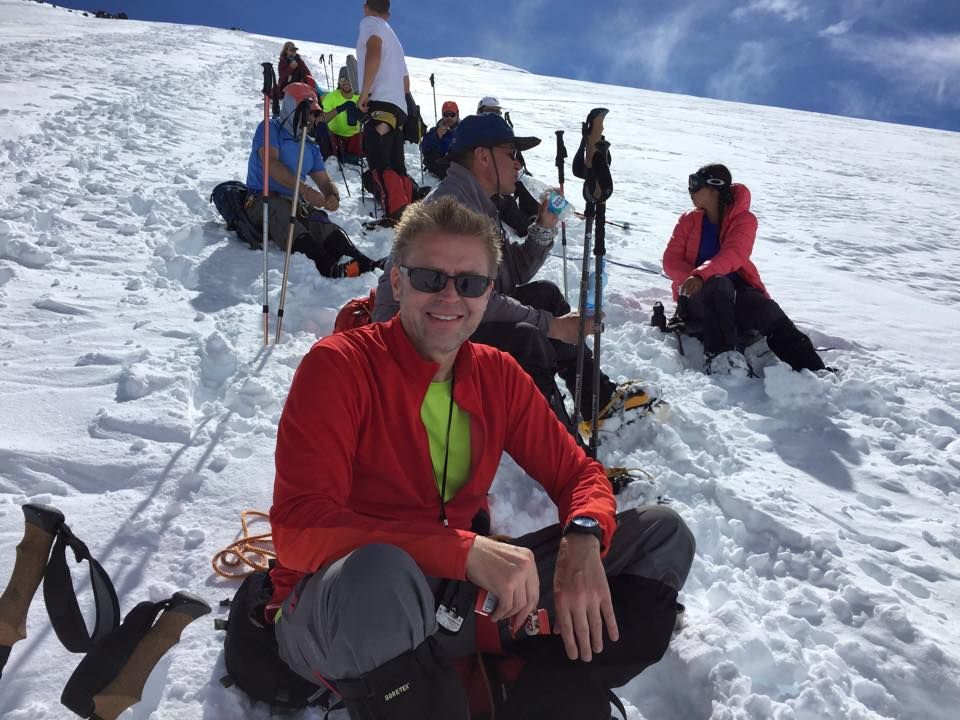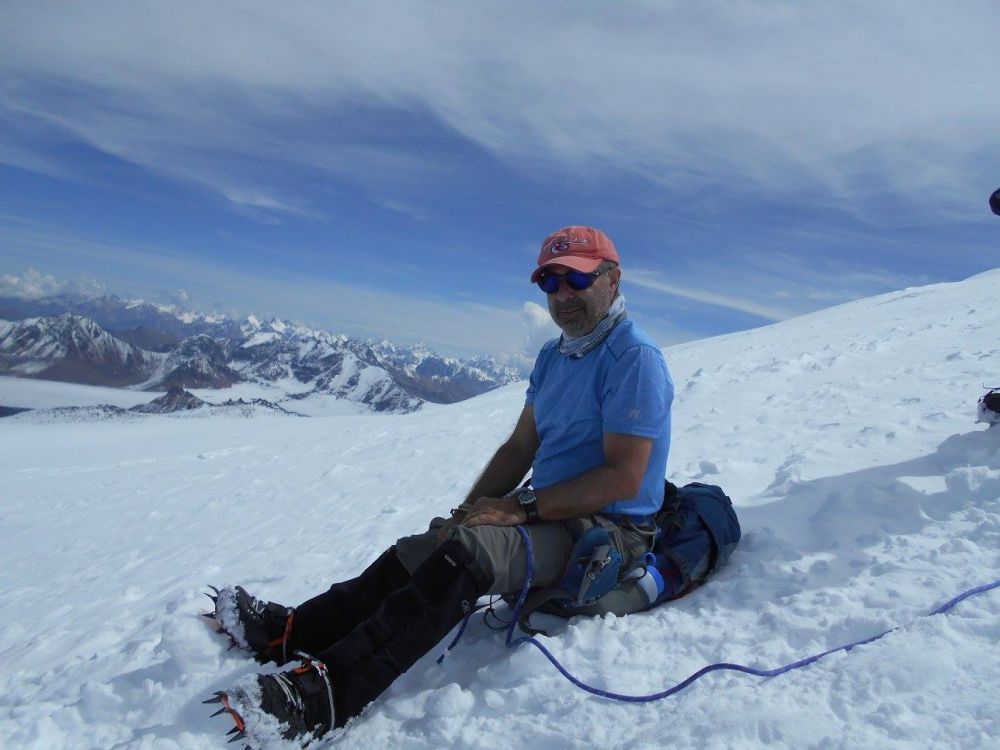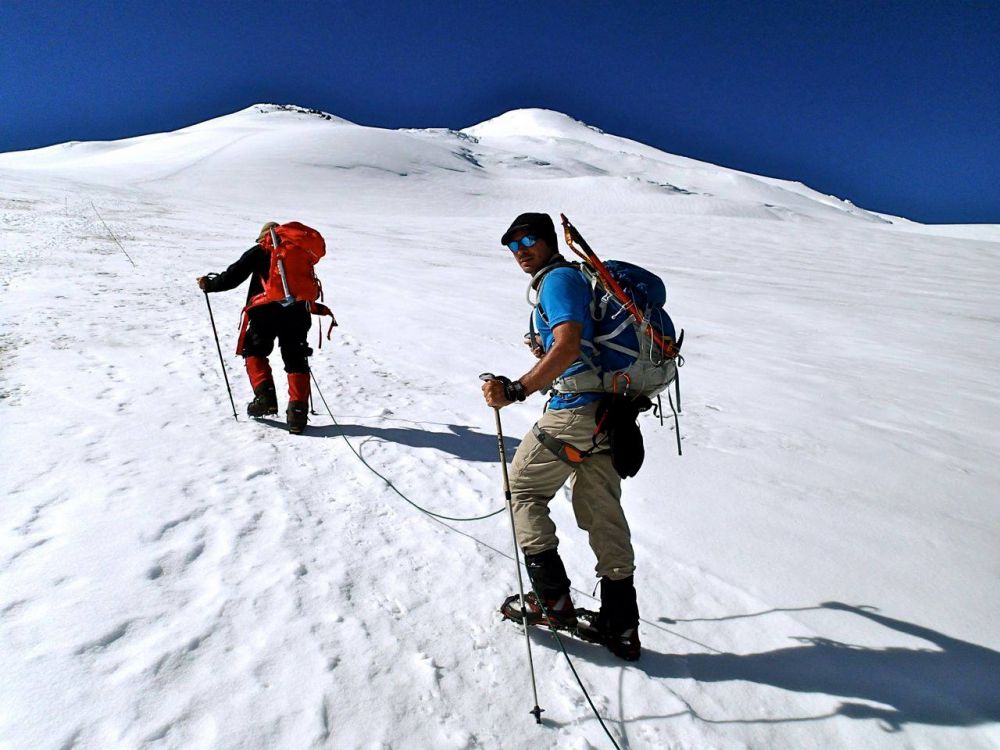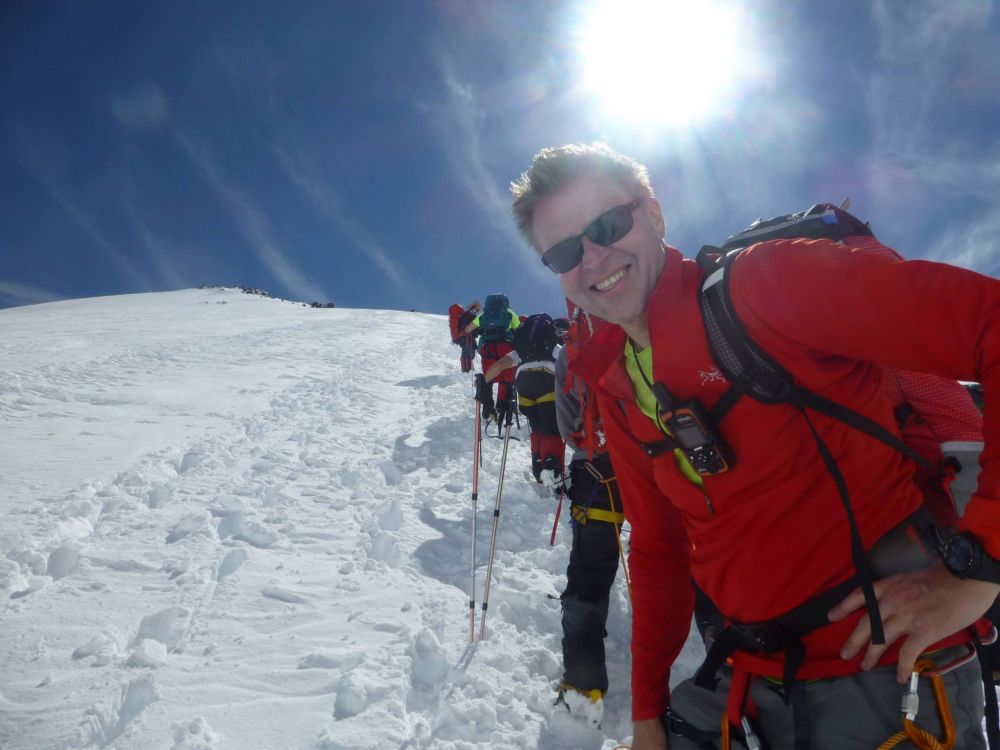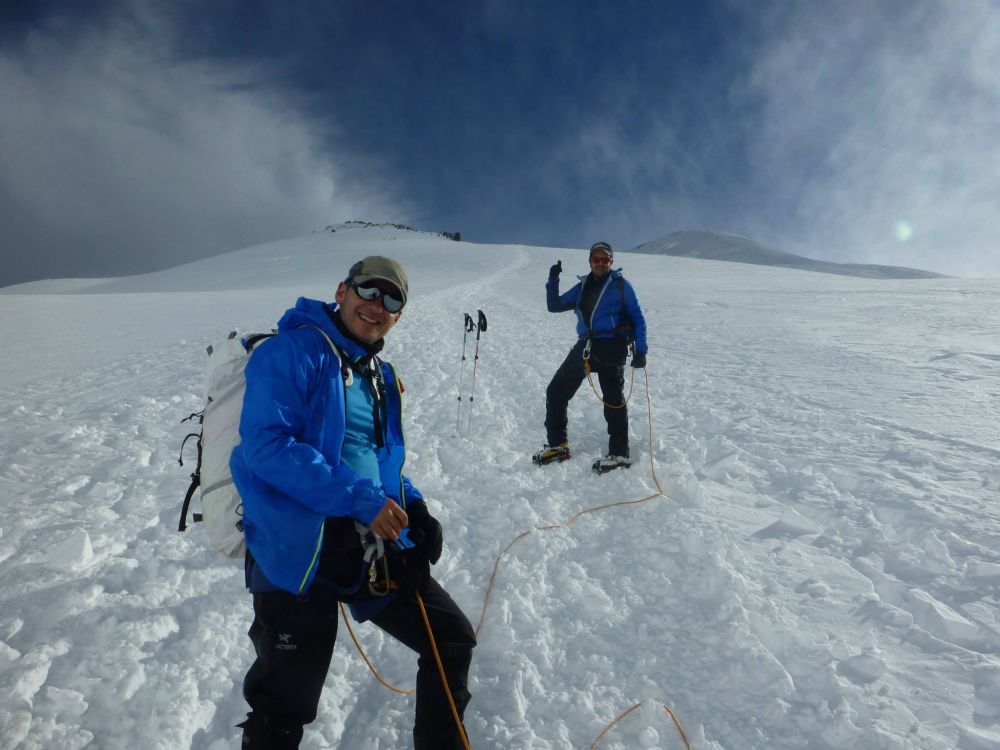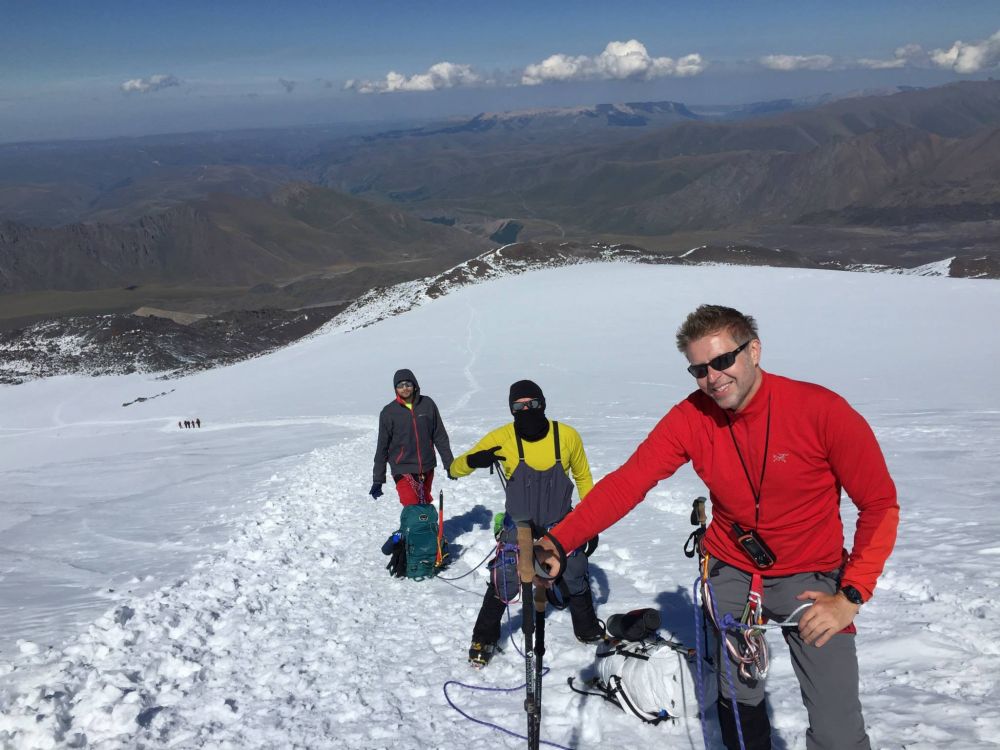 Days 8, 9 (3800 m - 5642 m 6-12 hrs)
Move to Lenz Rocks for overnight and next morning go to summit and come back to a) Lenz Rocks for another overnight, or b) all the way back to the hut (this depends on timing and weather. The other option, if the weather does not allow a camp at Lenz Rocks, is to use these two days to summit the West Peak all the way from the hut. This is a longer option and undeniably harder in terms of strength required, but it is possible. If you leave from Lenz Rocks, the start time is about 6am, if you leave from the hut the start time is about 1am.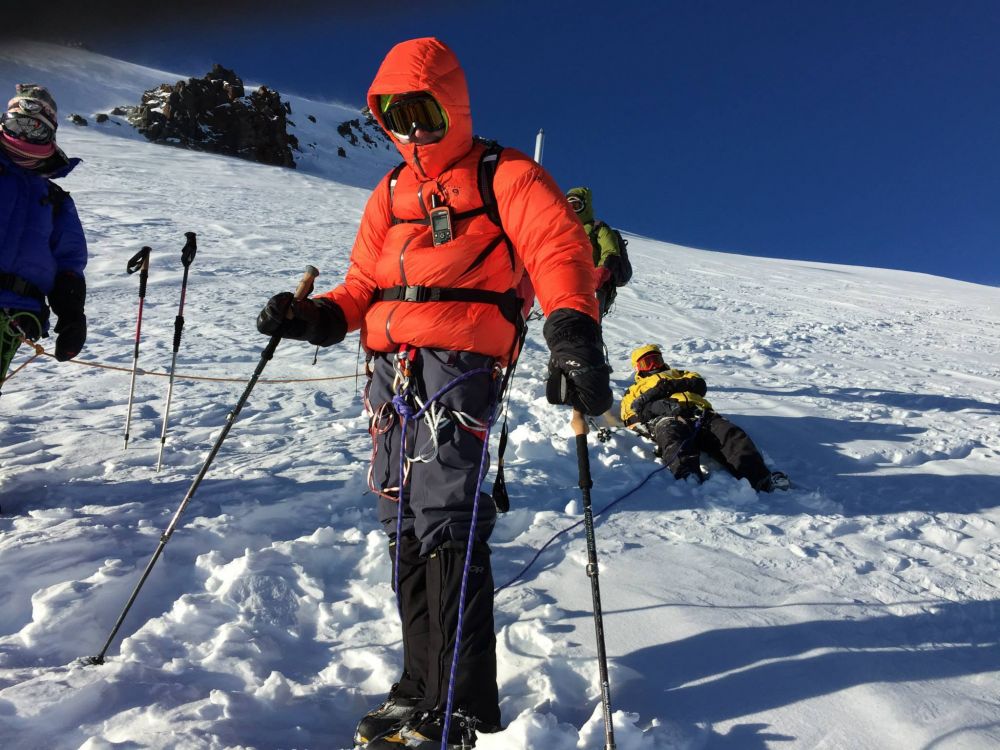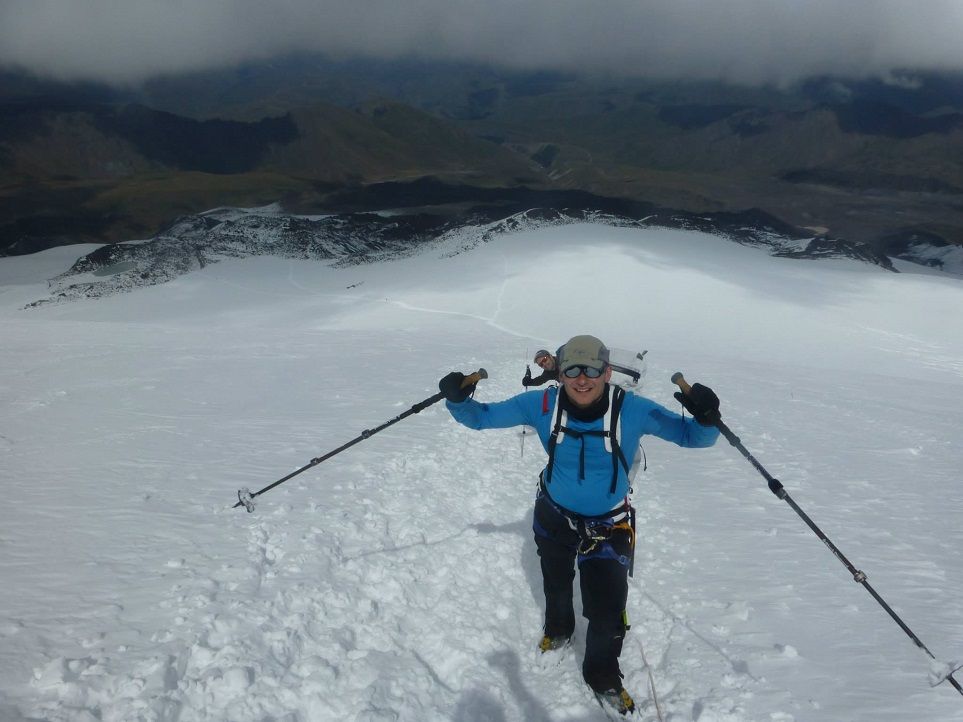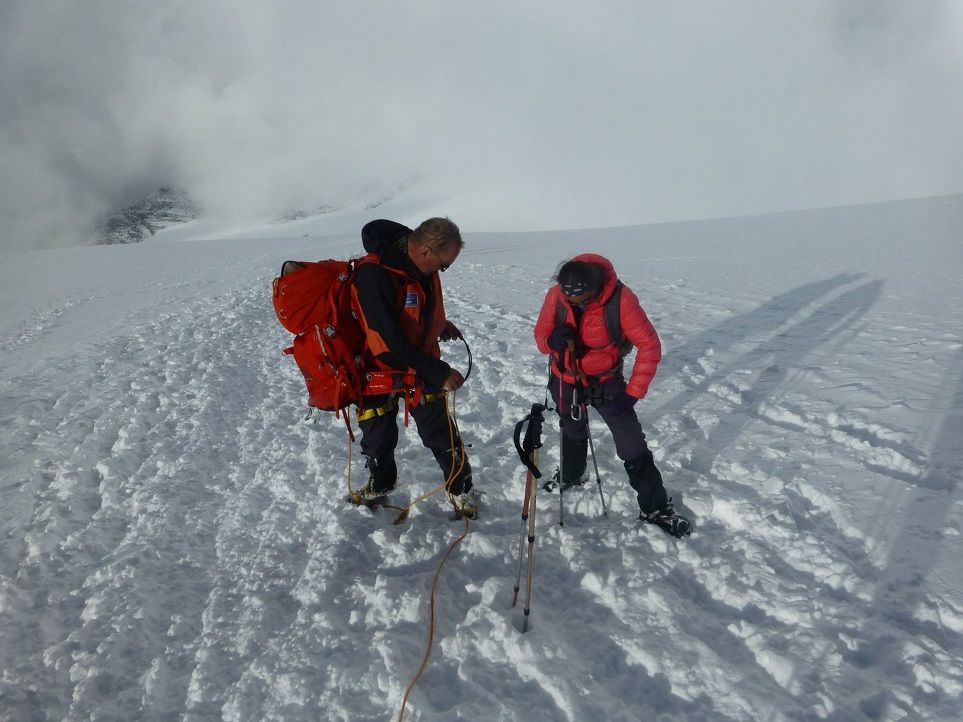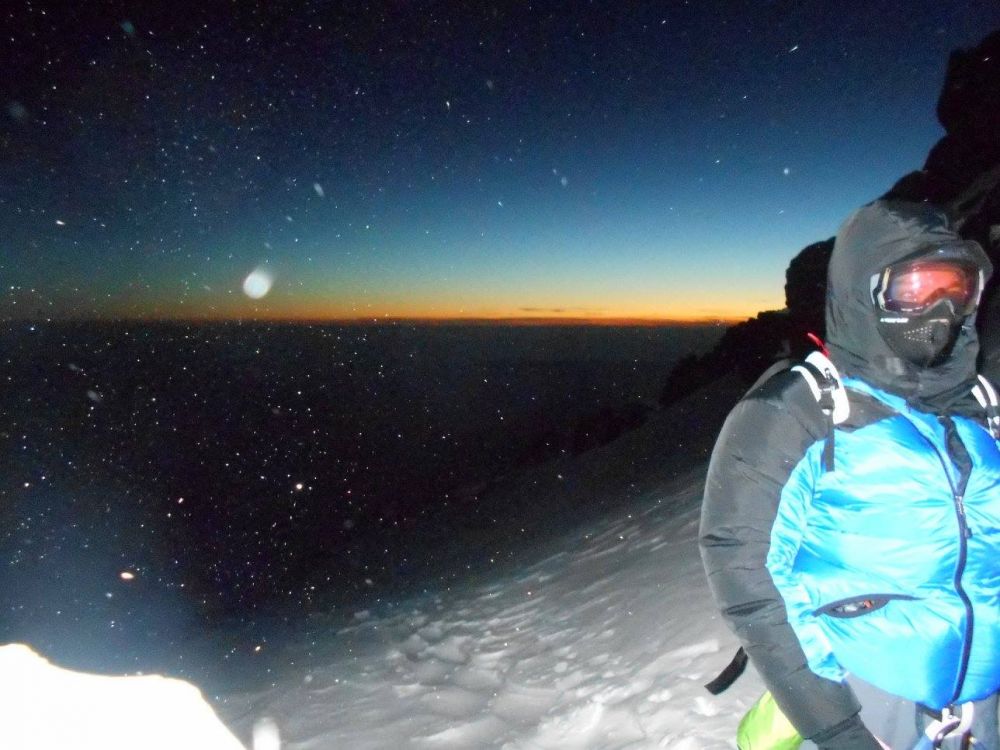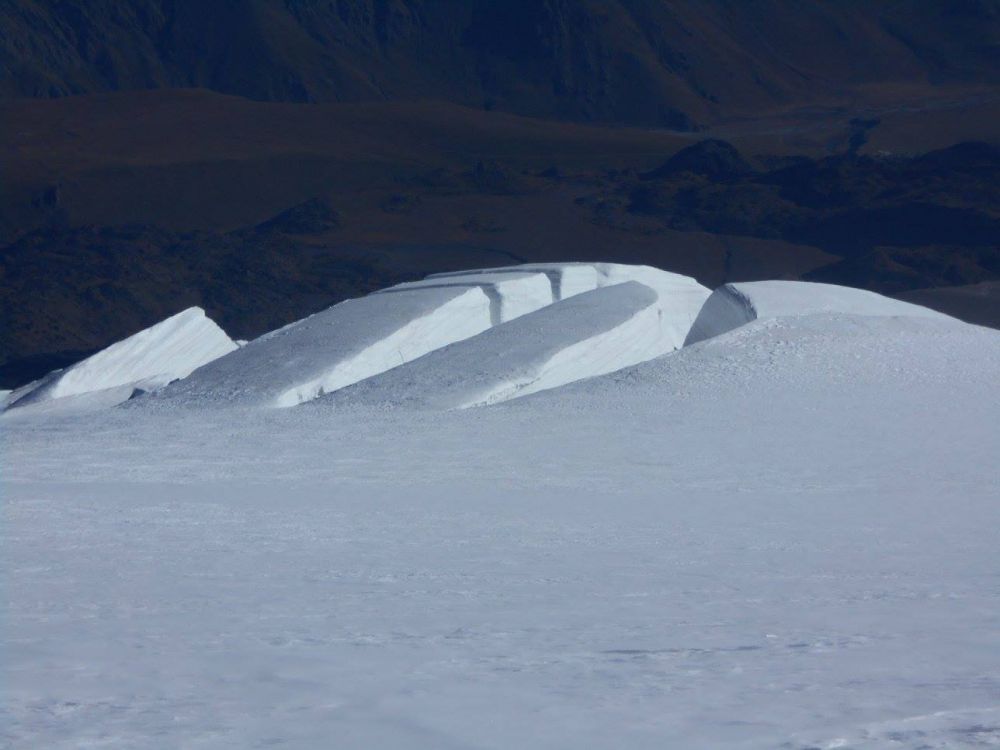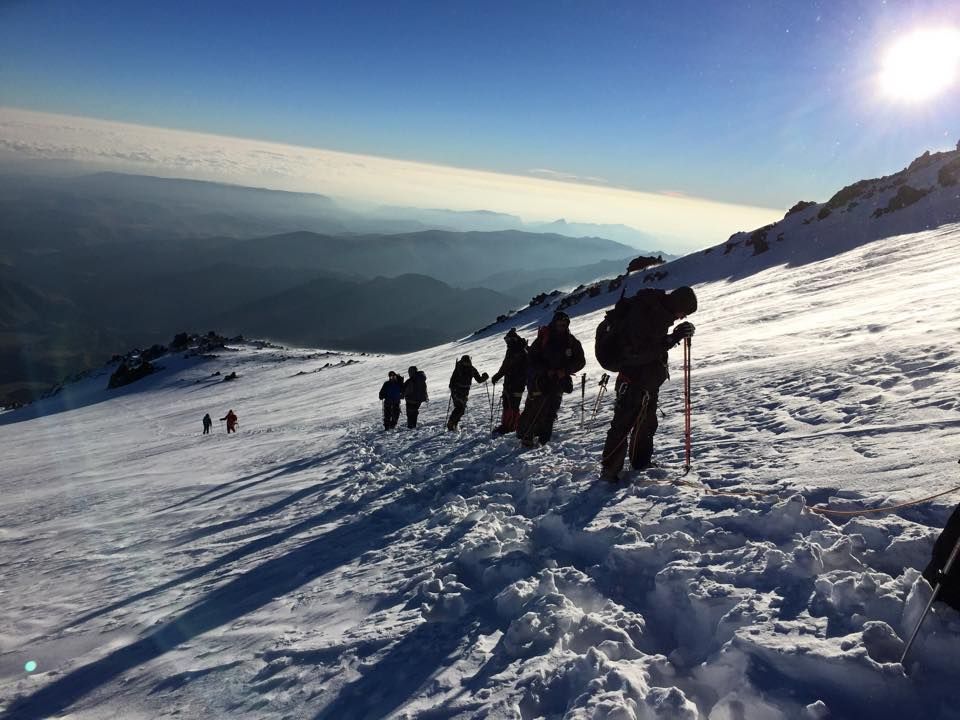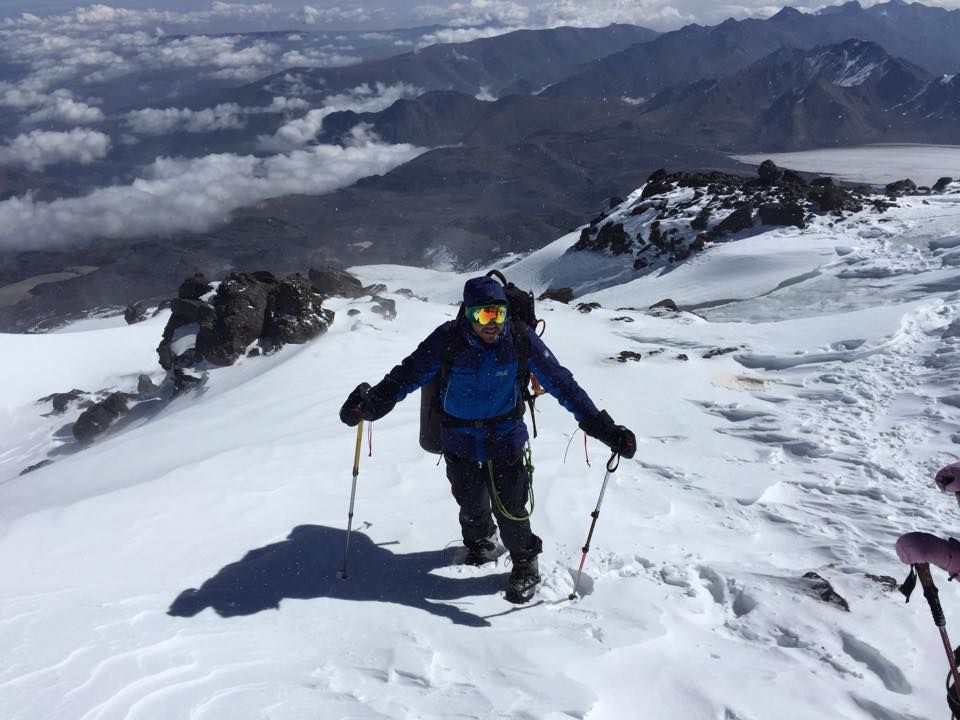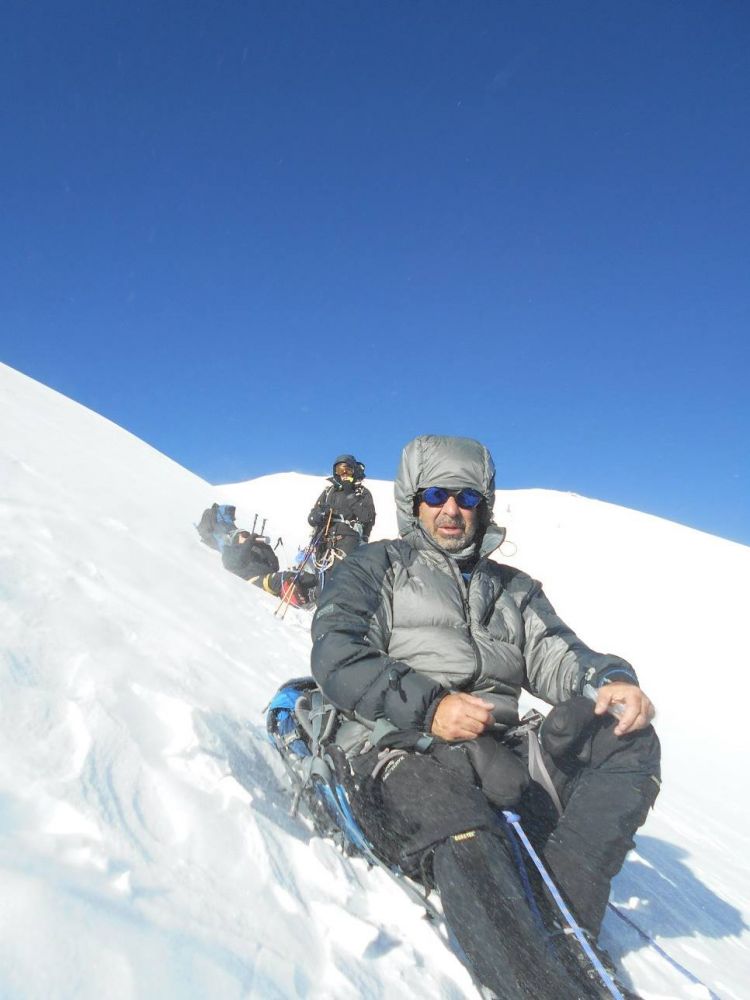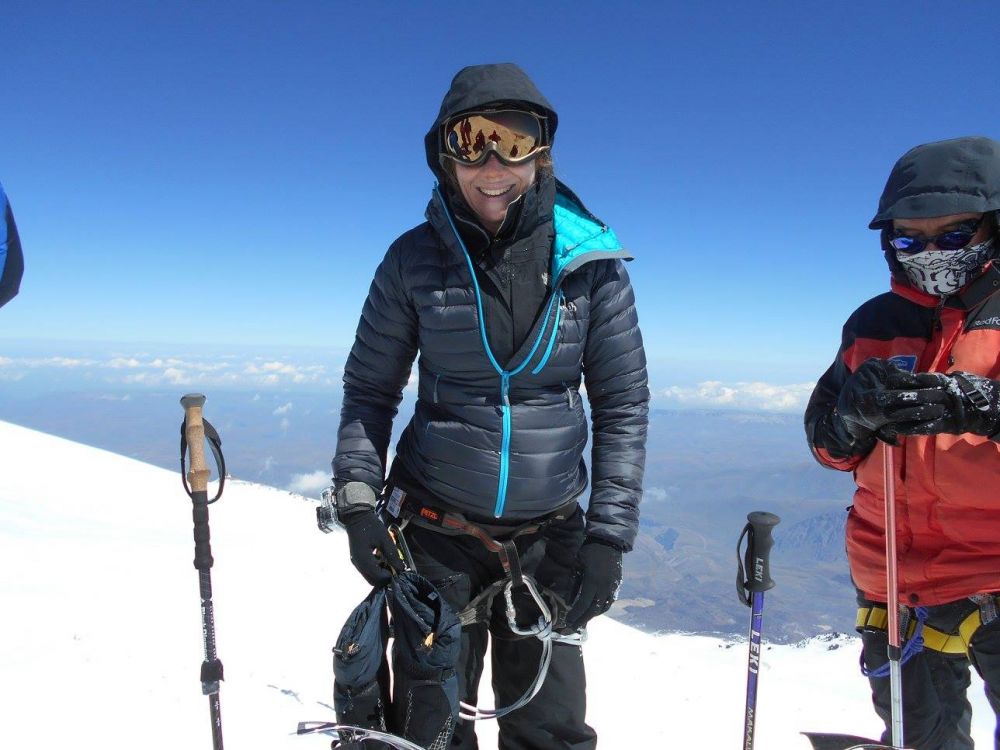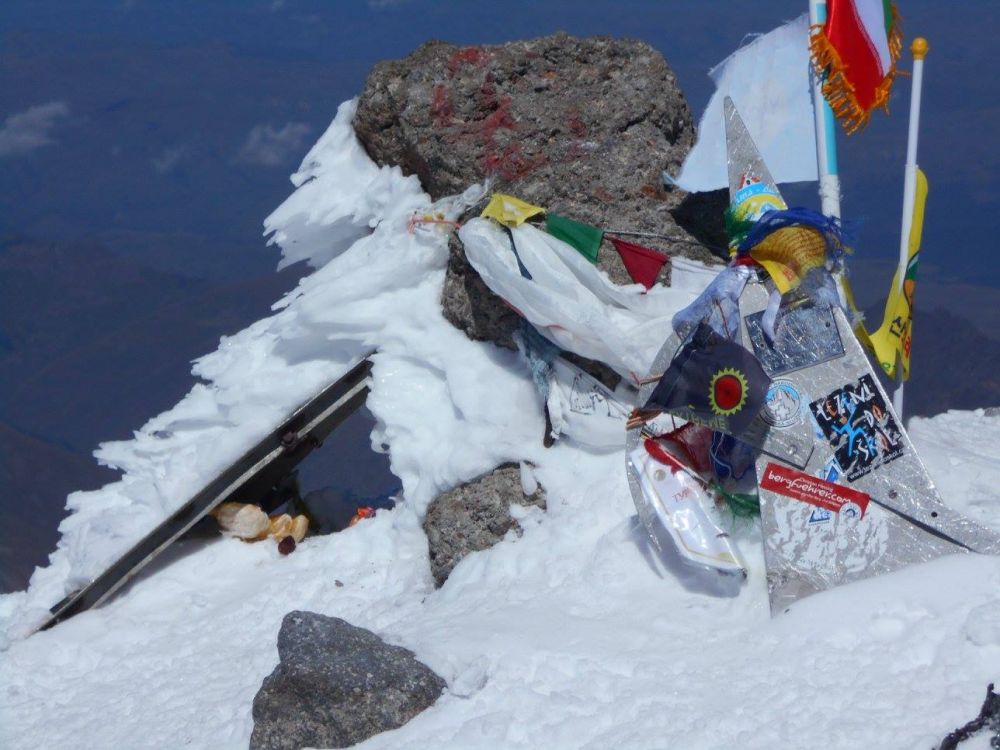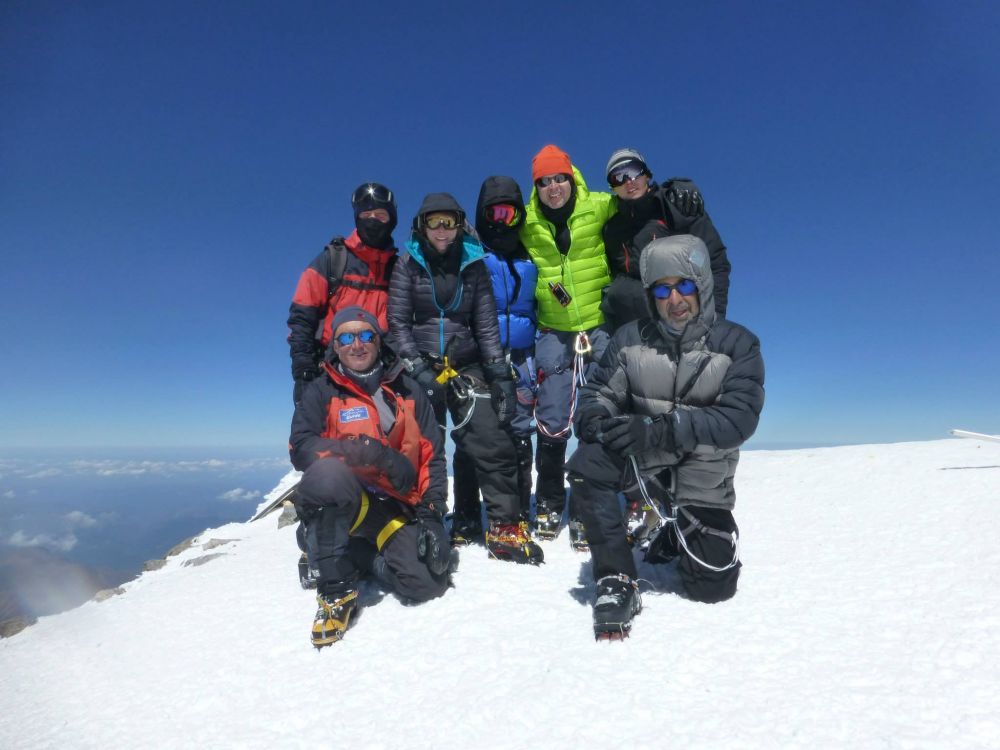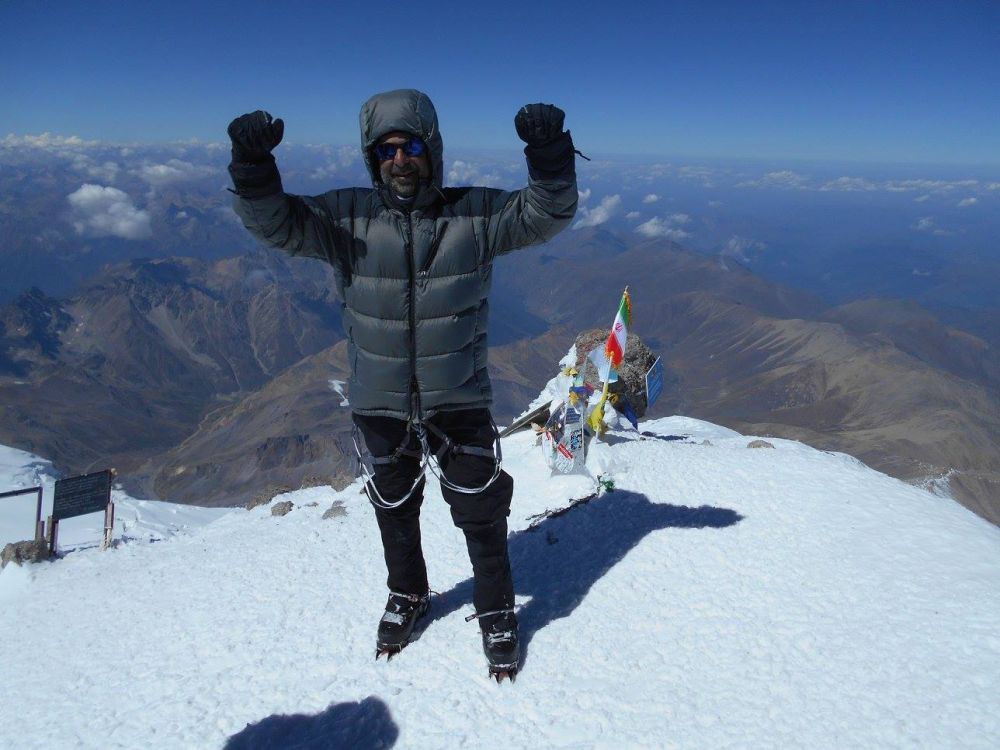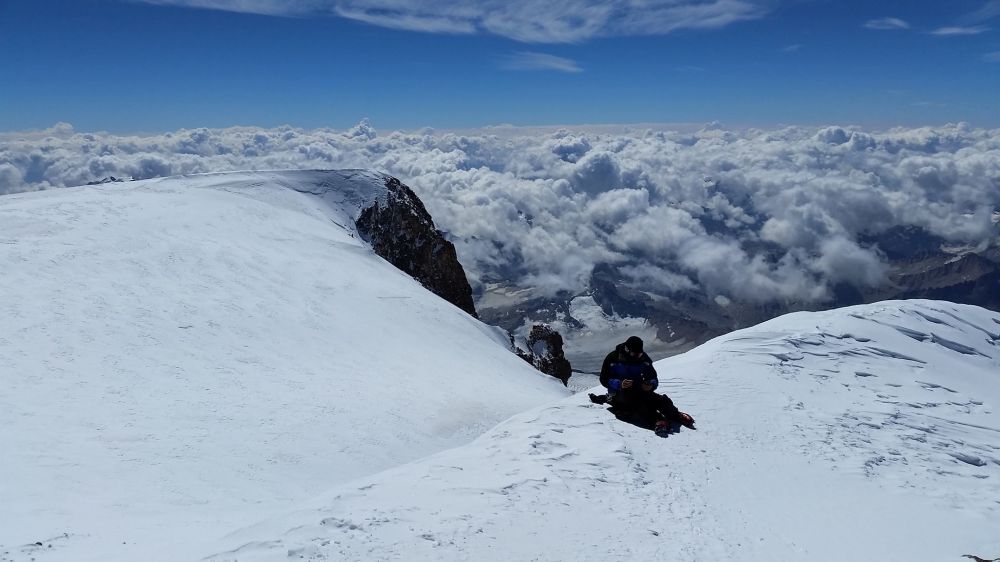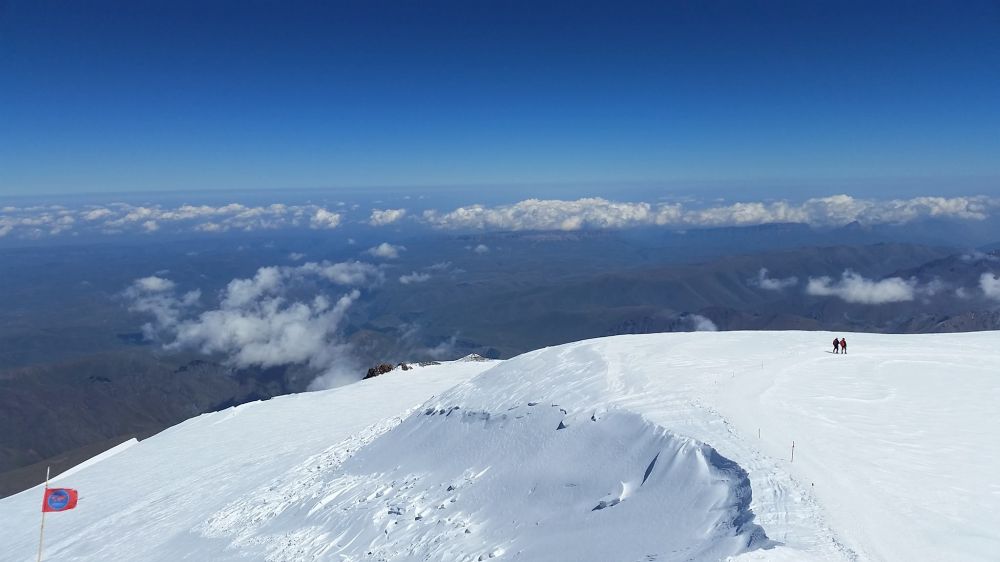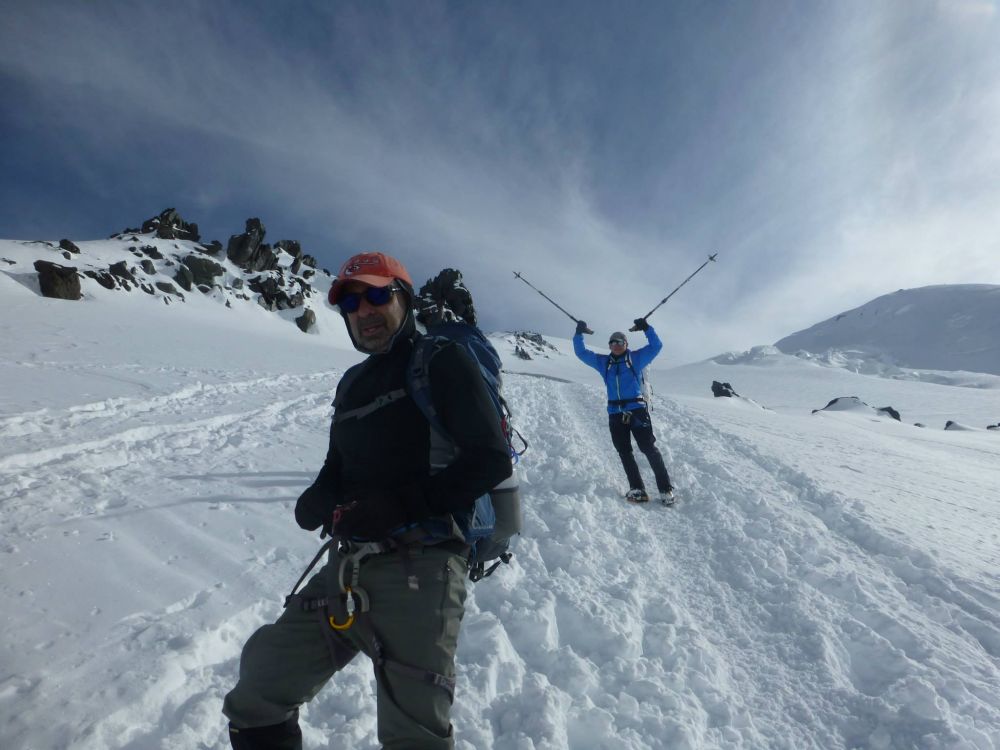 Day 10 (3800 m - 2500 m 3 hours)
Move everybody and all gear back to base camp for rest and celebration dinner

Day 11 (4 hrs)
Drive to Pyatigorsk to hotel. Sightseeing and dinner.

Day 12
Travel day. Drive to Min Vody airport (45 minutes), fly to Moscow and then home, or stay in Moscow for a few days.